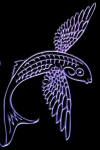 Welcome to aeranth.com
For those who wonder what is an "aeranth"? Created by a man by the name of George MacDonald who wrote fantasy stories in the mid-1800's, aeranth is found in the story of the golden key. It is described as a metamorphed air fish - a beautiful creature with rainbow colored feathers who swims though the air. aeranth's highest honor is to be of nourishment to a human.
For more information, visit www.george-macdonald.com/

aeranth enterprises & publications

Custom Web Page - Your Internet Business Card!
Give your business, club or event more visibility & creditability
with an internet presence.
ONLY $179.99
(Set up and first year)

Includes




Customized Simple One-Page Website hosted on my server for one year. Additional pages are available and quoted on a case by case basis.
Subsequent annual renewal is $8900.
(Renewal fee is subject to change without notice due to domain registration increases.)
Custom Domain Name (choice conditioned on availability).
Submission to major search engines, Google Map added, if desired.


Links to contract, registration, coupon, flyer, order or membership form uploaded PDF files.


Links to social media, groups, favorites, sponsors and/or selling sites (Ebay, Etsy, Ruby Lane), etc.
To Get Started, Simply Email aeranth@hotmail.com or
Call (520) 321-0003 M-F (ARIZONA MOUNTAIN TIME)