Donations to maintain this site
are graciously accepted.
Click <HERE> to Donate.

IOWA - IA
This site for people interested
in connecting with other doll enthusiasts
with the intention of Joining a Club ONLY!

For Doll Selling, ID or Valuation,
visit www.Selling-Dolls.com
For Doll Shows & Events,
visit www.DollShowUSA.com.
City

Mt. Pleasant
Club Name
Hawkeye Doll Club of Iowa
Interests
Most Dolls, Miniatures, Bears, Sewing
Activities
Meetings, Programs, Workshops, Show & Sale, Luncheon, Conference/Convention, Auction, Charity Event, Special Projects
Visit www.DollShowUSA.com IA Page for Details.

Please only contact us regarding joining the club or club business. We cannot help with evaluating or selling your dolls. Visit Selling-Dolls.com for details.

Contact
Glenna Voyles (319) 367-2614 or (319) 385-8937 Email
Information provided is to the best of our knowledge.
We are not responsible for any errors or omissions.
Site Developed & Maintained By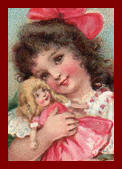 www.DollieCentral.com
Specialized Information & Services
For all your Dollie Endeavors

Online & Off