Donations to maintain this site
are graciously accepted.
Click <HERE> to Donate.

RHODE ISLAND - RI
This site for people interested
in connecting with other doll enthusiasts
with the intention of Joining a Club ONLY!

For Doll Selling, ID or Valuation,
visit www.Selling-Dolls.com
For Doll Shows & Events,
visit www.DollShowUSA.com.
City

Newport RI
Club Name
Doll Club
Interests
Antique, Vintage, Modern, Art/New, Fashion,
BJD (Ball-Jointed Dolls), Sewing
Activities
Meetings, Programs, Luncheon, Special Projects, Display/Exhibit

Please only contact us regarding joining the club or club business. We cannot help with evaluating or selling your dolls. Visit Selling-Dolls.com for details.

Contact
Susan Rood, Pres. (401) 619-0412 Email
Last Updated
09-20-16
Information provided is to the best of our knowledge.
We are not responsible for any errors or omissions.
Site Developed & Maintained By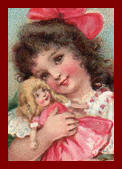 www.DollieCentral.com
Specialized Information & Services
For all your Dollie Endeavors

Online & Off