Specialized Information & Services
For All Your Doll Endeavors
Online & Off
HOME ~ CONTACT


DollShowUSA.com
The Place to go to Find a Show!
Facebook ~ YouTube



Information, Instruction & Guidance Tip
for Selling Dolls Online and Off
Facebook



Brick & Mortar / Online Shop Directory



Doll Shoppe - Playshop - Boutique - Library
Facebook ~ YouTube



Online Doll Club Directory
Facebook



Online Doll, Bear, Miniature,
Toy & Train Museum Directory



Give a Doll
Second Sunday in June


Other services
In Development Including:
Custom Doll Event Contract & Flyers,
Email and Doll Show Consultation Services.

SITE MAP: Home | Contact | DollClubs | Doll-Museums | DollShopsOnline
DollShowUSA | Selling-Dolls | TheDollieBoudoir | WorldDollDay
This site is maintained by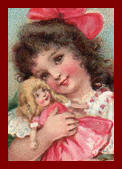 www.DollieCentral.com
Specialized Services & Information
For All Your Dollie Endeavors


Online & Off


Last Updated ~ 06-01-18

Free counters provided by Vendio.