Dollie Nostalgia, Harlene Soucy, Antique, Vintage, Modern, Buy, Sell, Appraisals, Identification, Show, Sale
Buying, selling and appraising
antique to mid-century dolls for 22 years.

Gone but not forgotten....
This is just a sample of the Dolls I have had for sale
and have now found new homes
Click on photo to see full size.

Belton
cup/saucer
5 piece body
Kestner China
Purple Luster

Wax Head

Kestner
168 18"
West German Bedroom
Box Room
Lg Prize Baby
Chest Decal
MA Margaret
Wendy Ann
Original
Tiny Chatty
Baby w/box
Shirley Original
"notes" dress
For More Information or Dolls currently for Sale
Call: (480) 831-9081
Email: Harlene
This site is maintained by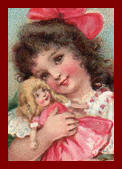 www.DollieCentral.com
Services & Information
For All Your Dollie Endeavors
Online & Off!
Last Updated ~ 10-03-17


Free counters provided by Vendio.