he year was 1990. I was walking my daughters, Erika and Jessika along with my step daughter, Jennifer, to the school bus stop. There she was, on the curb, next to the trash container. I tried not to look. I didn't want to be a "trash picker". I thought about her all the way to the school bus stop. As I walked back from the school bus stop with my step-daughter, Jennifer (she was in kindergarten and went to school a little later) I could see that she did have both her feet and arms but her paint was flaking off and she had a hole in her head the size of silver dollar. Just kind of looked as we went by. Walked all the way home and thought about her all the way. Then I though, well, she's not "in" the trash and she had both her feet and arms, maybe I should take her home and fix her. Finally, it was time to take Jennifer to school. I got in the car, drove to where the dollie sat, on the curb, next to the trash container and asked Jennifer to jump out and grab her before anyone saw.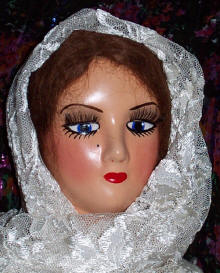 got her home. I didn't know anything about dolls. I didn't even know what she was made of (composition). I called dollie Cathy. Dollie Cathy was a wonderful lady who we met selling Camp Fire Candy door to door. She had invited us in and said she would love to have the group over for a doll presentation. So, we had taken the group over to her house and learned about dolls. She would certainly know about this poor dollie I had found on the curb, next to the trash container. Well, she didn't know but she called her friend and she said it was a bed doll or boudoir doll. We took pictures and she said to call Mary Lytle at Heirloom Dolls who was a Doll Doctor. So I called Mary, the Doll Doctor and asked if she would help me restore her. I went to the library and searched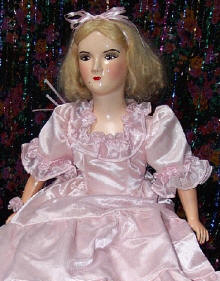 for any information. I needed a picture of what she should look like. I found very limited information and one picture. I sewed her a new body and made a dress. After many, many Saturdays, lots of kindness and patience on the part of Mary, Rosalinda was done. She taught me many things and I will be forever grateful.


n what I thought would be my last Saturday, Mary said she had a surprise for me -- another bed doll! She was in a box with some other dolls at an estate sale. Alexandria Diana was smaller and had plastic arms and feet. Some fingers were missing. This was an opportunity to learn how to rebuild fingers. After many more Saturdays, Alex was done.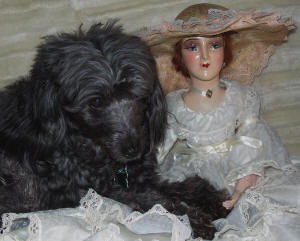 ver the years after, I would go to doll shows here in Tucson and in Phoenix in search of a boudoir doll. I would find maybe one a year if I was lucky. Not many people knew of them here. Even doll people. I thought that may be because composition didn't last here in the dry climate. The next doll that I purchased was a plastic head with braided human hair and then I got 2 Anita type dollies. After that I didn't find any for awhile. But I still had hope.
<--My First Anita type with Gidget.

hen I found eBAY and there they were! And….they didn't cost much! I went nutz-so. I am now up to about 400 in various stages of repair (or disrepair). Let me tell you, you learn a lot about something when you have 400 of them and expanding my collection to include many "cloth" dolls.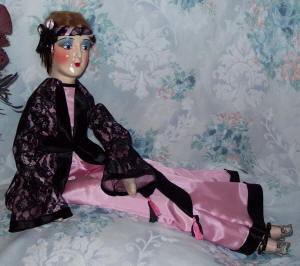 hortly after that, I started sewing for others. Between the sewing for people and eBay, I have met such wonderful ladies all over the world who have been "bitten by the boudoir doll bug"! I expanded my dollie business to include completed dolls and since Tucson wasn't having show at the time, I participated in my first doll show in Phoenix in 2004 Since then I have vended many more shows in Phoenix as well as Yuma, AZ, Las Cruces, NM and my first California show in Anaheim November 2007.
<--- Anita type II, my best model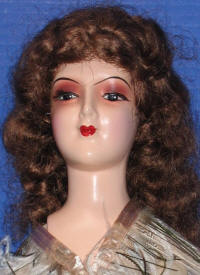 have met many wonderful ladies who have encouraged me immensely and though the dollies do sometimes sit for months at a time (I have a full time "real" business and many other activities in my life), I know in my heart that someday, I will get to stay home a play with them more. And besides, they don't mind, they have all the patience in the world ~


lessings, Karen (aeranth) Kosies, the dollie boudoir